Get Started.
Getting started at Flo Pilates Studio is easy!

Call 757-321-4398 to schedule your initial evaluation
EMAIL us with questions, times that work for you, and contact information

Stop by the studio and visit with us in person

We recommend that new clients begin with a series of private sessions

This initial group of sessions is important in setting the basic foundation for Pilates. Students learn each exercise with proper form and alignment, as well as any modifications that might be appropriate for them. Through careful one-on-one teaching, students learn the traditional order of the exercises, the principles of Pilates, equipment set-up, and the system of exercises that is right for their body and their personal fitness goals. Feel free to stop by our studio for a preview at 1616 Virginia Beach Boulevard, Suite 101, (17th & Cypress) in Virginia Beach.

Pilates Horseback on Reformer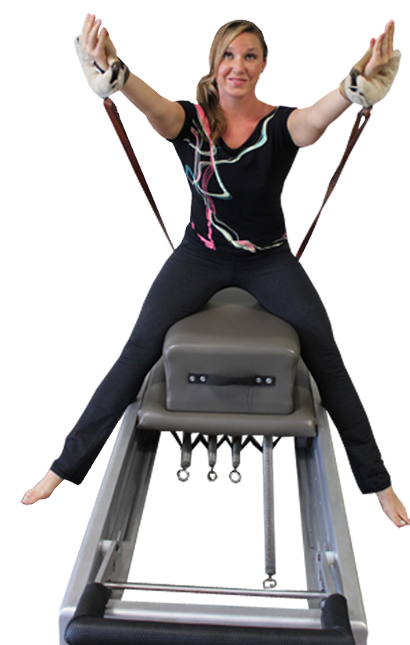 We encourage you to register for Pilates classes with our online scheduling calendar. Click on the "Calendar" link to the left, call us, or simply stop by the studio to schedule your first session. Your First Session at Flo Pilates

Your first session will allow us to assess your posture, your strengths and weaknesses as well as ability, and help us determine how best to customize a Pilates program that is right for you.

If you are new to Pilates, we require that you schedule an initail session with us so that we can verify you understanding of Pilates and safe operation of the equipment. If you have previous Pilates experience, we welcome to join us for a class and experience all that Flo Pilates has to offer.

There is no charge for a cancellation with at least 24 hours notice. The client will be charged the full session fee if the cancellation is made with less than 24 hours notice or if the client no shows.

Click Here to Download New Client Registration Forms

Attire for Pilates

Your should wear comfortable clothing that allows ease of movement.

Women should wear a comfortable T-shirt over a sports bra or or other suitable support garment that will allow our staff to observe your posture and spinal alignment. Please wear long stretch pants or leggings, shorts (not too short or revealing please) or bicycle shorts. Men should wear a T-shirt and gym or cycling shorts.

We recommend that your session be performed either with clean socks.

Please reserve your jewelry watches for another occasion.

Call 757-321-4398 or Email us now and take the first step toward intelligent exercise at Flo Pilates in Virginia Beach.